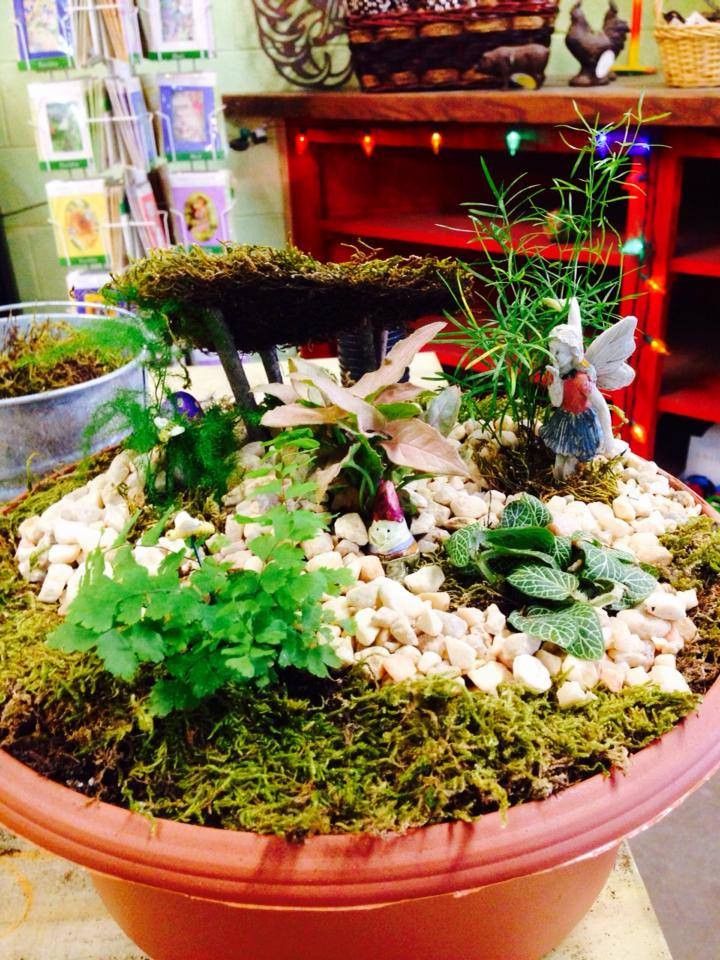 We are excited to start doing work shops at the store.We have come up with a few different workshops so far that will teach you all about gardening, plants and cut flowers.
Fairy Garden Workshop
In this workshop you get to put together a container garden with miniature terrarium plant with different rocks, sticks and moss. You get to pick from a large variety of different miniature terrarium plants to make you imagination come to life. In this class you also get to have your very own Fairy which there are several to choose from. We also have lots of little things such as little animals, houses, bridges, and furniture to that can also be purchase to add into your fairy wonderland. We encourage that you bring anything that you may already at your house or in your yard that you can add into your gardens. The class is build for all ages. Its fun for the kids and the adults that still have that little kid inside.
Floral Design Workshop
We will be have our First ever floral design workshop the middle of this month. In this workshop you will be learning how to set up an arrangement in a vase. You will learn which flowers to choose from to make your arrangement fun and fantastic. You will also get to learn how to take care of your cut flowers to make them live as long as they can and learn which ones last the longest and the ones that fade out faster. You will even get to take home a few supply's from the workshop so you will have them when you go home and start making arrangements on your own. Whats cool about this workshop is if you are or are not a gardener in you yard you will learn how to take some of the thing growing around your yard and use them in your arrangement. We are also a garden center and there are times when Donna wants to add something a little different from what we have growing here at the store.
Terrarium Workshop
We are excited about this workshop and show you how plants live in there own natural ecosystem. You will build your ecosystem in a closed apothecary jar that seals to keep in moisture and air that plants will create. In this workshop everything is included from the apothecary jar, soil mixture which includes activated charcoal, plants, sticks, moss. You are also more then welcome to bring anything you would like to add in your terrarium. After you are done with this class you will be able to take your terrarium home and leave it in a well light room and just let it do its own thing. Every once and a while you will need to trim the plants or add just a little water. This will be determined by where you put it in the house and how much light and warmth it will get. There was a guy that build one that was fully sealed and he left it alone for 25 years before reopening the jar to trim and clean the plants. This is just so cool to do and have in your house to talk and show your friends and family.
Please call for any information you may want about one of your workshops and if you would like to join. We post the workshops on our Facebook page but you are more than welcome to contact us throw phone or email about signing up or just get general information about a workshop.